Chad Grigsby endorses the Fryin' Saucer
Chad Grigsby, professional angler on the FLW Tour – the PGA circuit of bass fishing – has endorsed the Fryin' Saucer. Check out the Fryin' Saucer logo on the lower left side of his jersey. Bet those fish would taste great sizzling in some beer batter in the Fryin' Saucer!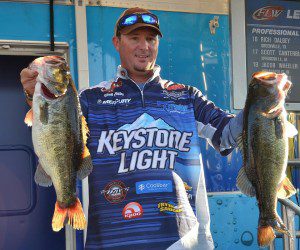 ---
Fryin' fun has just begun!
Take a trip with legendary Fishing Hall of Famer Dave Genz.
Hi, I'm Dave Genz.
Over the years I've witnessed numerous innovations and improvements for ice fishing— Shelters, Electronics, Fishing Gear, Augers, and lures that have made ice fishing easier, more productive, and more fun.
One of the newest and latest innovations to make your ice fishing experience even better is the Fryin' Saucer.
The Fryin' Saucer—what a way to end your day!
Slabs of fish or fries, wings, rings—anything cooked on the Fryin' Saucer is quick and easy and will give you an out of this world taste.
The circular saucer, with it's sloping design, cooks food fast and allows excess oil to drain away while keeping the food piping hot.
Easy to set up, this portable cooker can be used anywhere—patio, tailgating, shore lunches in the fish house, or right here on the ice!
The Fryin Saucer comes in a totally self contained carrying case, sets up in a minute, snaps in place without any nuts, bolts or tools—assembles with just 5 parts.
Just add 32 ounces of oil, electric start the 13,000 BTU stainless steel burner, and you're ready to cook within minutes.
Add your fish to the 350 degree oil and when cooked set up on the sloping flange to keep hot until you're ready to serve, or better yet eat right off the Saucer!
The Fryin' Saucer—add it to your equipment list the next time you're out for some slabs on the ice.